TECH HIGHLIGHTS
Embedded deep within its unibody chassis, Hidizs has implemented an ESS9281C Pro DAC, and dual independent RT6863C op-amps. The DH80s is compatible with both DSD and MQA-formats, offering sampling rates as high as 32bit/384kHz.
Moreover, its RT6863C op-amp array offers enhanced amplification of up to 125mW+125mW into a 32Ω load in its 3.5mm single-ended output, and 210mW+210mW in its 4.4mm balanced output.
Pair that with a 1300mAh battery, and you have a portable amplifier that (allegedly) offers over 6-8 hours of playback. Tech-wise, the DH80s is no slouch when it comes to boasting technically impressive specs. But real-world performance is the real proof in the pudding.
DESIGN
Aesthetically, the DH80s is a sleek and svelte portable DAC/Amp at 70×50×12mm. For ease of comparison, it is appropriately sized compared to its DAP forbear, the Hidizs AP80 Pro, a highly pocketable solution for outdoor listening.
At just 68g, the DH80s was designed to complement or enhance one's "on the go" audiophile rig without adding too much-unwanted weight. However, its black stainless steel does offer enough heft to inspire confidence in its build quality.
To put it brusquely, the DH80's premium design and build quality punches above its price-point significantly.
CONTROLS
Given its primary feature set, the DH80s only adopts a few rudimentary controls in its interface, On the left-hand side of its chassis, there is a toggle on-and-off switch for both low, and high-gain. For multiple use scenarios, having a mid-gain toggle would've made the DH80s are a more adaptable unit.
On the right-hand side, there are independent volume controls with 30 steps, and a power-on/off toggle switch. To avoid any confusion, Hidizs has opted to include a second LED indicator to reflect the device's charging status.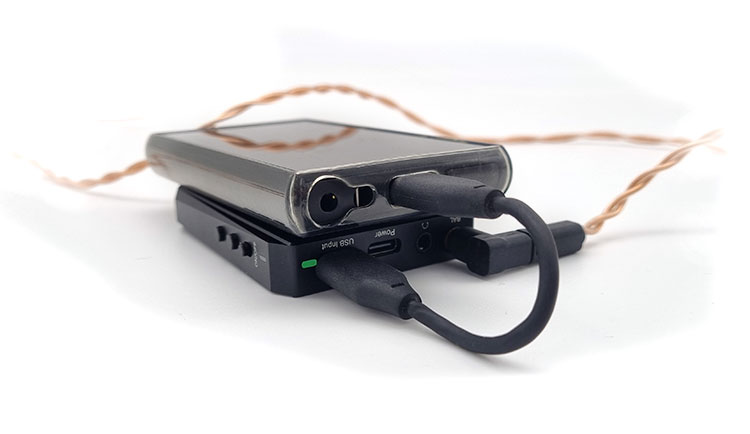 SOUND IMPRESSIONS
SUMMARY
In an ideal setting, a DAC's job is to recreate any sonic data that was lost from compressing an analog recording into a digital one.
Additionally, the op-amp stage's primary purpose is to provide adequate power to drive any pair of headphones or IEMs without altering its sound profile. Nevertheless, a multiplicity of factors can result in modifications down the signal path.
To my ears, the DH80s has a slower decay/roll-off that accentuates the low-end, distinctly in the mid-bass section. Treble energy is slightly blunted by the DH80s; any hiss or sibilant peaks are eliminated.
Most importantly, there is a prominent boost in the entire midrange, from its lower mids to the upper mids. Our human biology naturally processes mid-tones far better than any other frequency band. Hence, mid-range clarity is enhanced with the DH80s.
To view the full original article, click here.