Packaging and design:
Hidizs DH80S comes in small but stiff rectangular box with glossy product picture at front and technical specs printed on the back side. This box consists of two compartments inside, one has soft insert that holds DH80S at place and below that you'd find the rest of the accessories and leaflets. Full set is as following:
DH80S
type-C to USB-A converter
type-C cable
type-C to type-C OTG cable
coin type separator for sandwich setup
warranty card
User manual
Leather feels nice, has natural surface texture, protects the other device from scratches in sandwich setup and adds the grip to DH80S slippery shell. The opposite flat side contains all prints such as logos and names.
Top edge is left free on any controls. Left edge got 3-position Gain adjustment, right edge has two volume buttons, main power switch and power LED indicator.
All inputs and outputs are located at the bottom edge: 3.5mm SE, 4.4mm balanced, sampling rate LED and type-C USB charging + type-C USB data ports.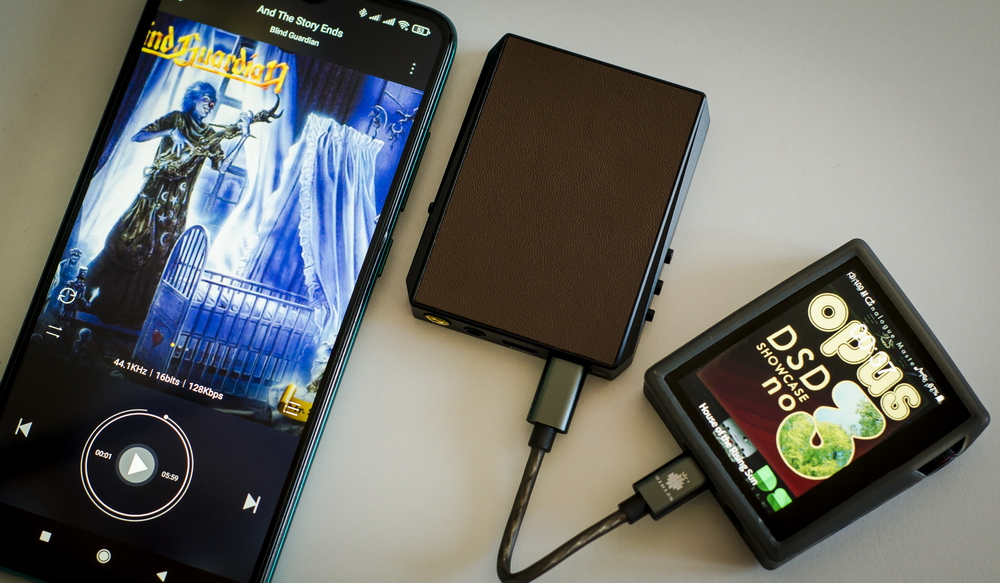 Sound quality:
Test gear: Hidizs AP80 DAP + Hidizs DH80S DAC/AMP + various IEMs + AudioTechnica ATH-M50
Lows and midbass:
Hidizs DH80S resolves lows with above average amount of textures, capable of delivering it with nice outlines in perfect balance with other ranges. Extension is on the pros side, bass is neither too fast or slow. Lows show adequate volumetric feel and do not interfere with mids and treble. Bass portion is fully perceptible, making the stage wider and the complete picture warmer to a reasonable extent. Although, we can not tell that this DAC|amp is warm or dark, let's say neutral or even a little bit dry. But lows and mid bass do a great job on making it less analytical. Mid bass is decent – sounds natural and powerful. Dynamics and articulation on drums are both impressive.
Mids and vocals:
More resolution is observed in this range while the entire picture stays similarly neutral. Vocals are not popping out or recessed, show slight tendency towards emotional side but not sounding too thin. They do take a central part on the stage and close to monitor reproduction. No harsh and screaming notes. With slight emotional appeal male vocals still maintain good touch of warmth. Instruments of upper range show the most amount of tiny details. Excellent instrument separation positively results into stage depth. In overall, mids feel natural, energetic and emotional.
Treble:
Treble is perceived balanced to the rest of the ranges with no extra emphasis or excessive capabilities. It has enough clarity and crispness and the extension and micro dynamics are good. Treble is accurate in general and naturally compensates good bass presence without any piercing or dirty effects. The potential of this range might only be compromised with very expensive BA or piezo drivers while for the most of IEMs and overheads DH80 treble has the excessive potential.
To view the full original article, click here.