Hidizs XO is coming soon...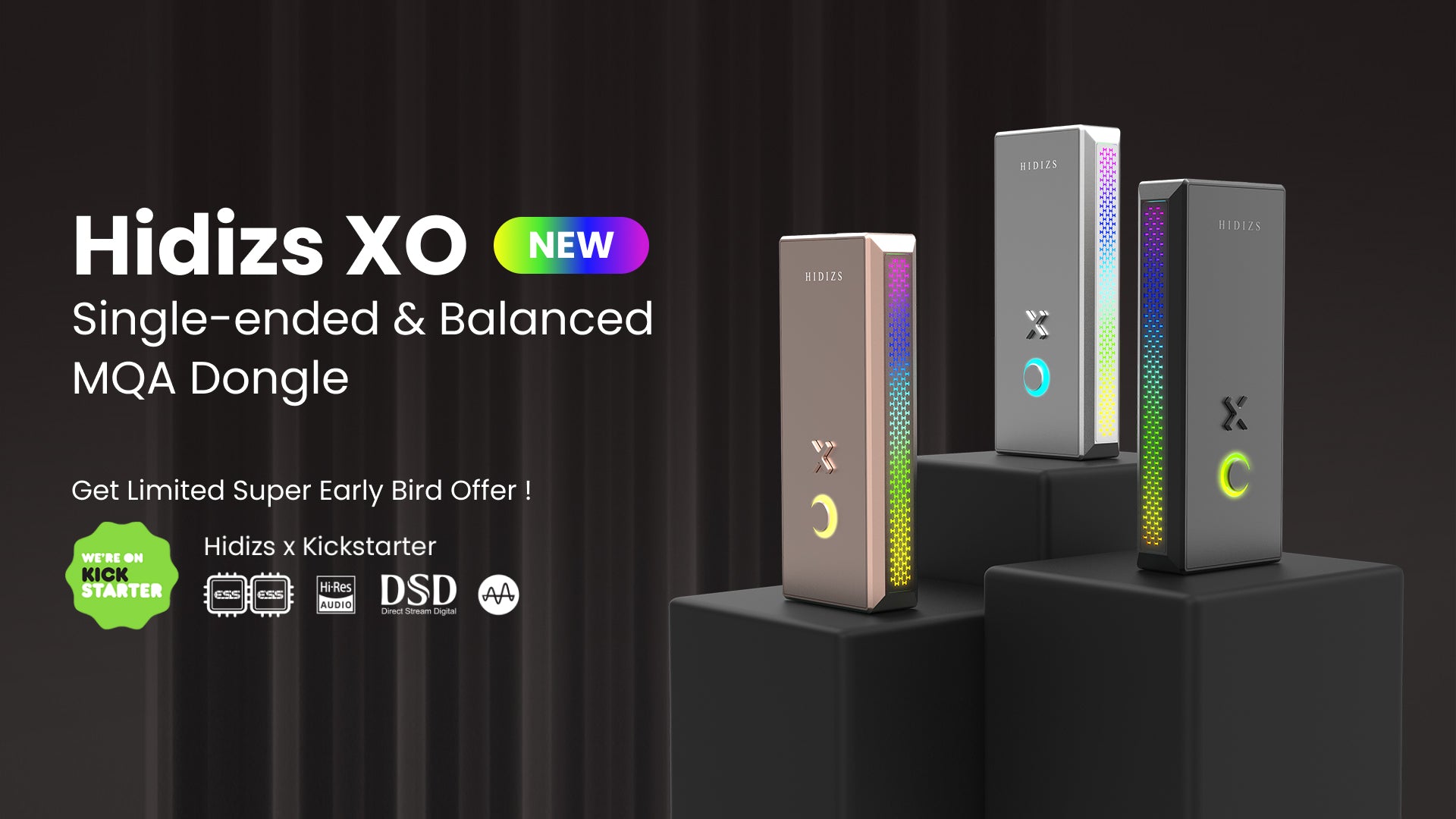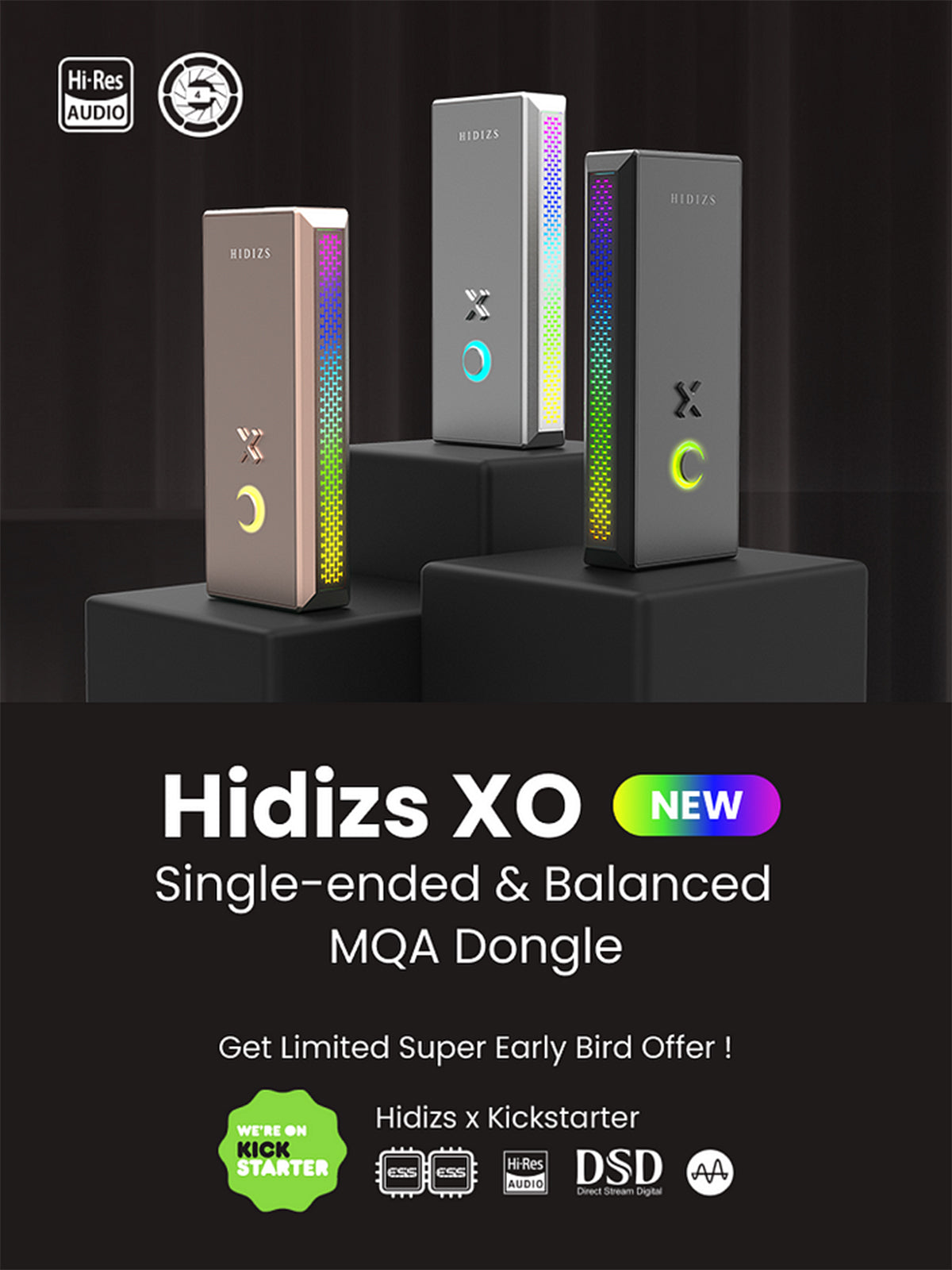 Subscribe to get
1. First-to-know Product Information
2. Get notified to be limited Super Early Bird
3. New user discount of 5% OFF on ALL items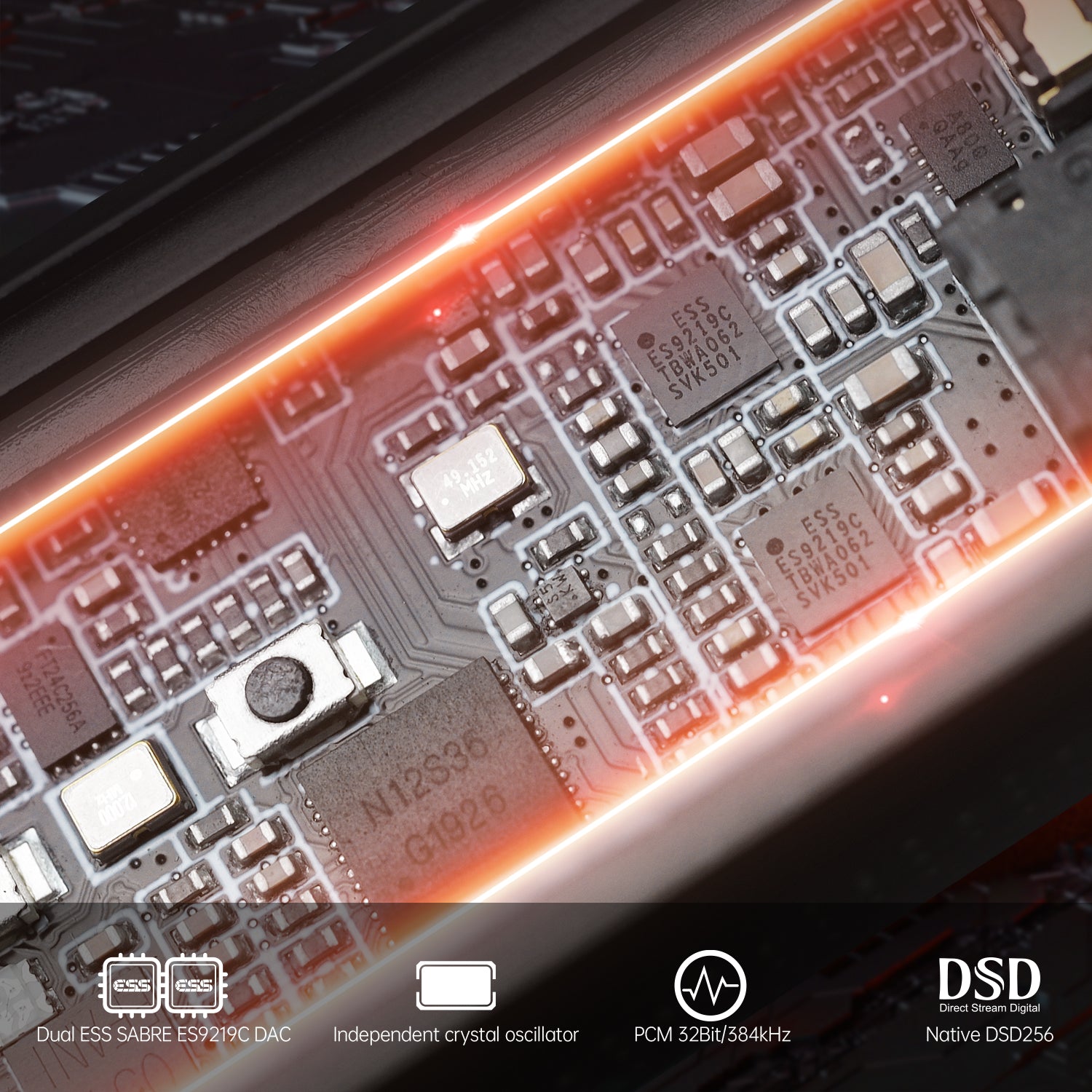 DUAL ESS SABRE ES9219C DAC & Independent Crystal Oscillators
Get double the audio performance and the most accurate clocking for both DACs, through the synergy of the Dual ESS SABRE ES9219C DAC chips, and high-precision independent crystal oscillator, for the purest audio experience, and reproduce real music with unprecedented accuracy! Outstanding DAC parameters: 32bit/384kHz PCM, DSD256, +121dB DNR, -114dB THD+N, ultra-low power consumption, high integration, and substantially better performance than previous iterations.

Remarks: The above official data is provided by ESS company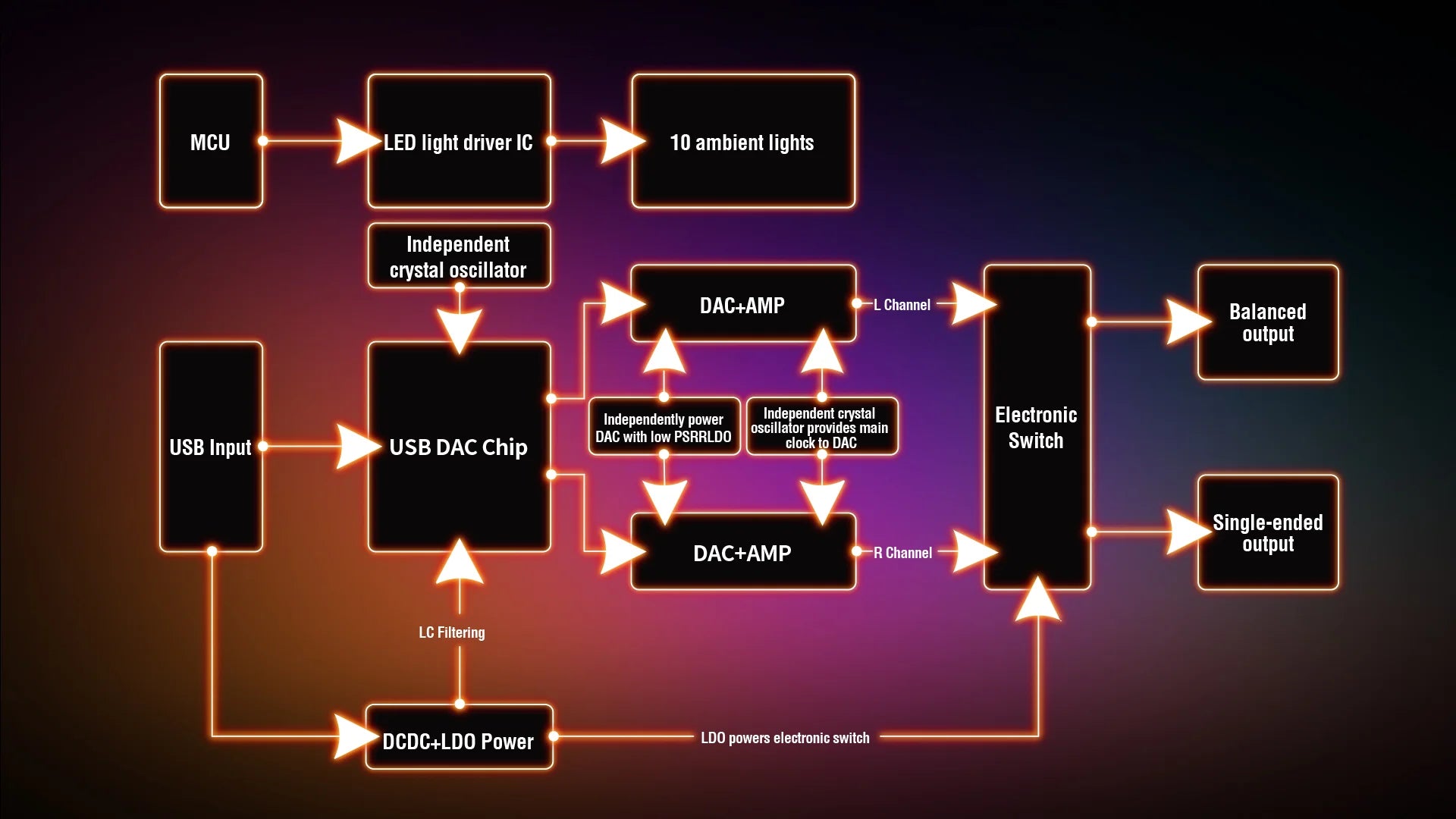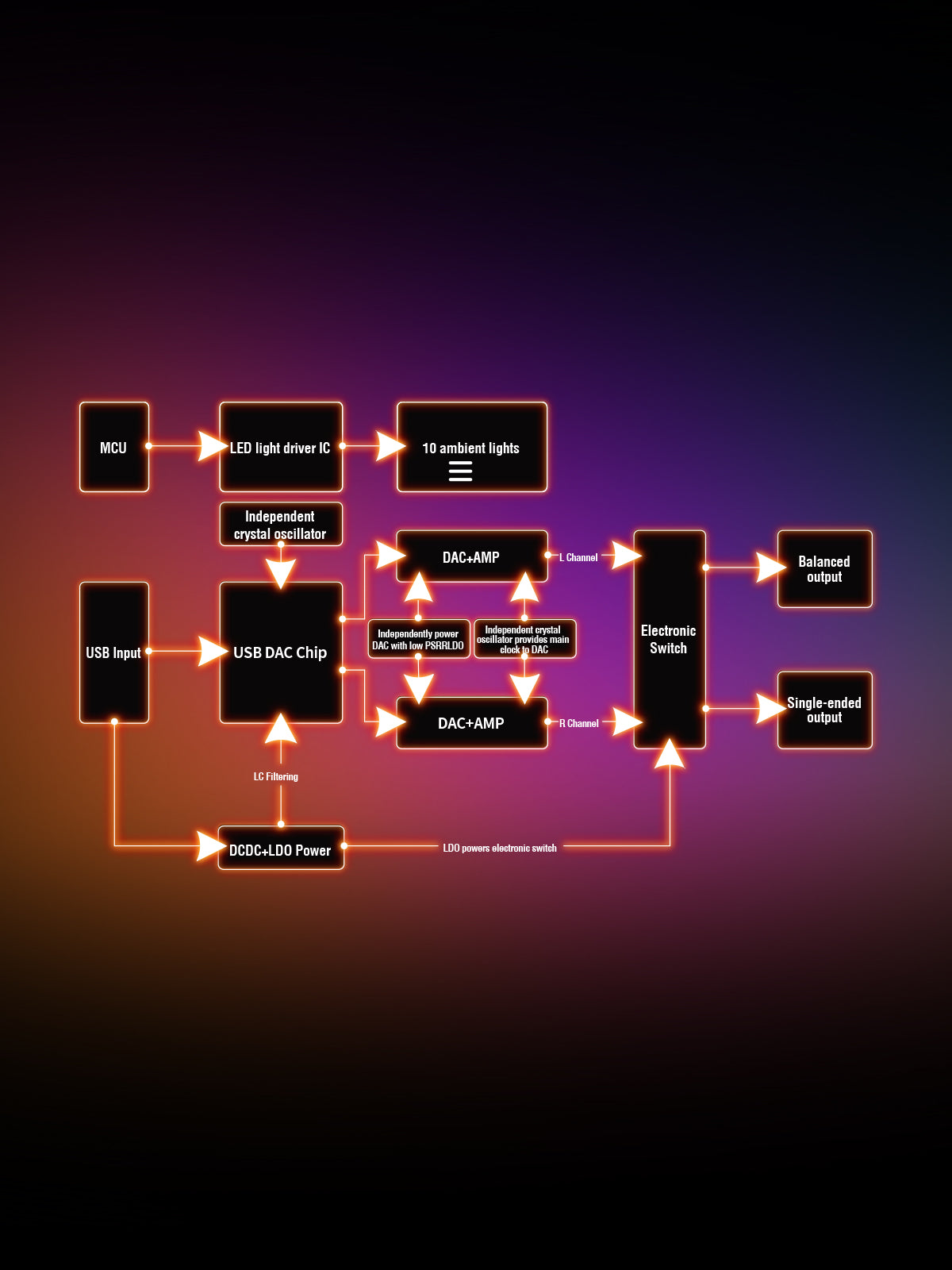 MQA 16X
MQA is an award-winning British technology that delivers the sound of the original master recording. The master MQA file is fully authenticated and is small enough to stream or download.
MQA audio technology is supported by Hidizs XO portable dongle DAC AMP, able to fully 'unfold' MQA files (16X) to deliver outstanding sound quality.
*Music services that support MQA should be installed on playback devices (e.g. HiBy Music, TIDAL) to realize 16X unfolding of MQA audio.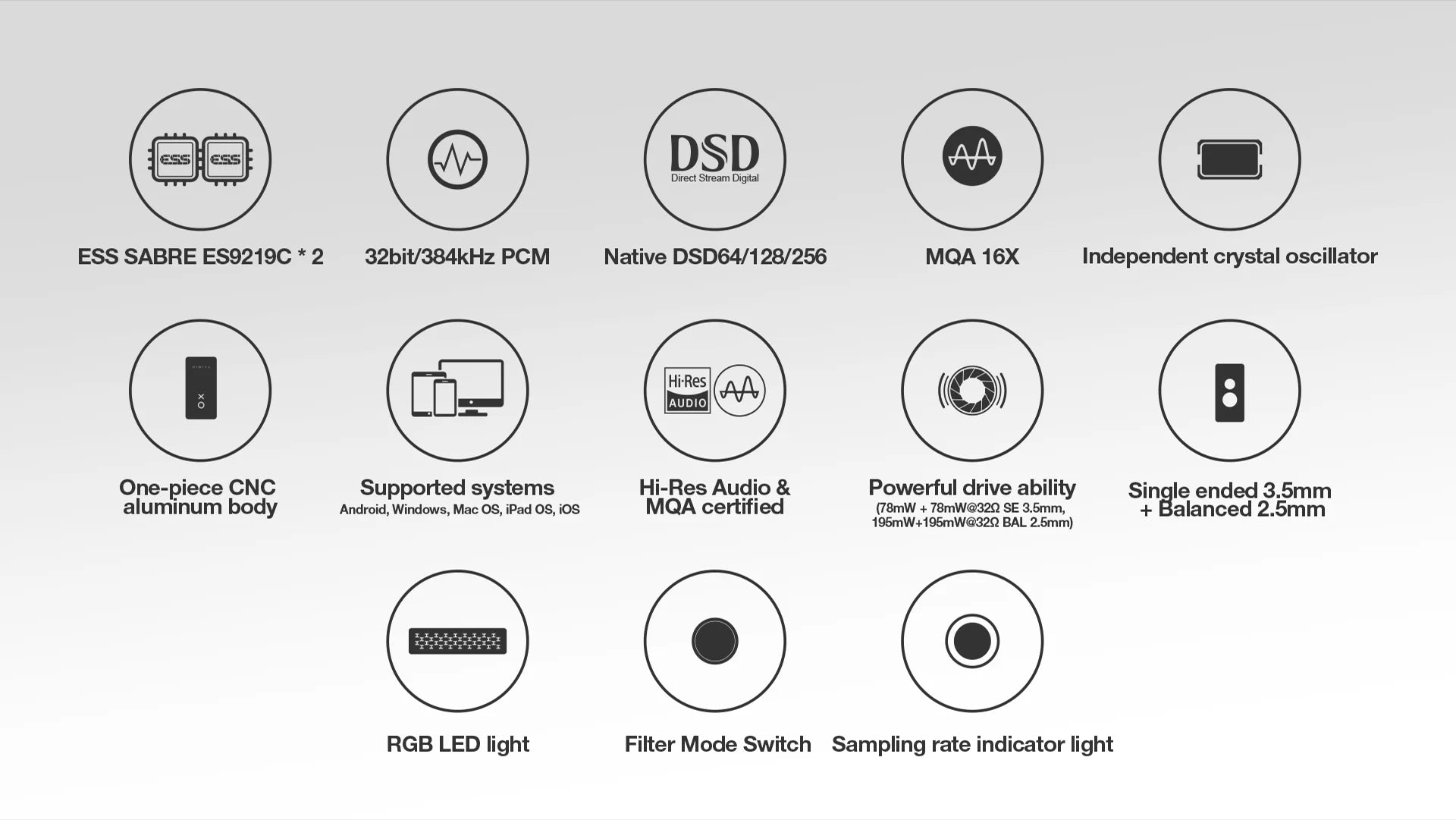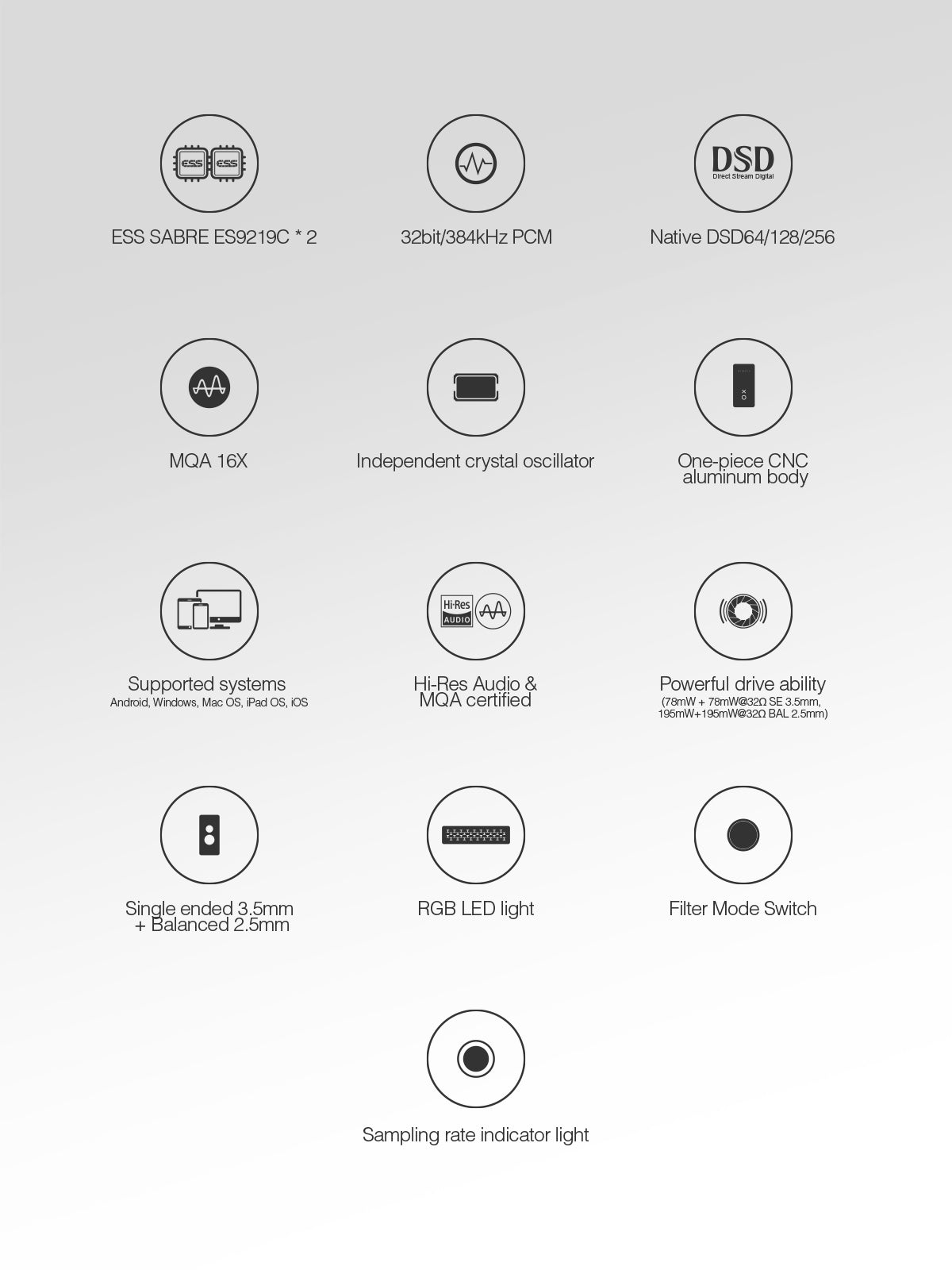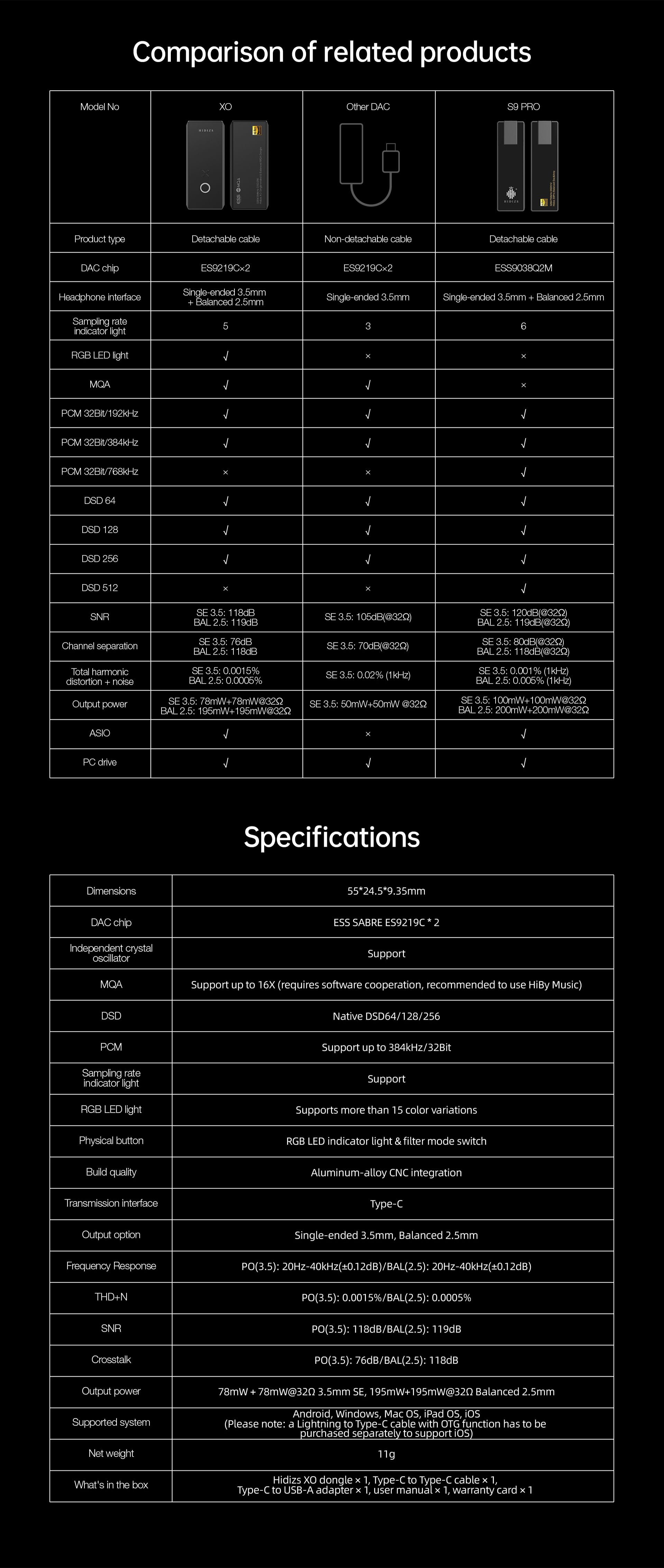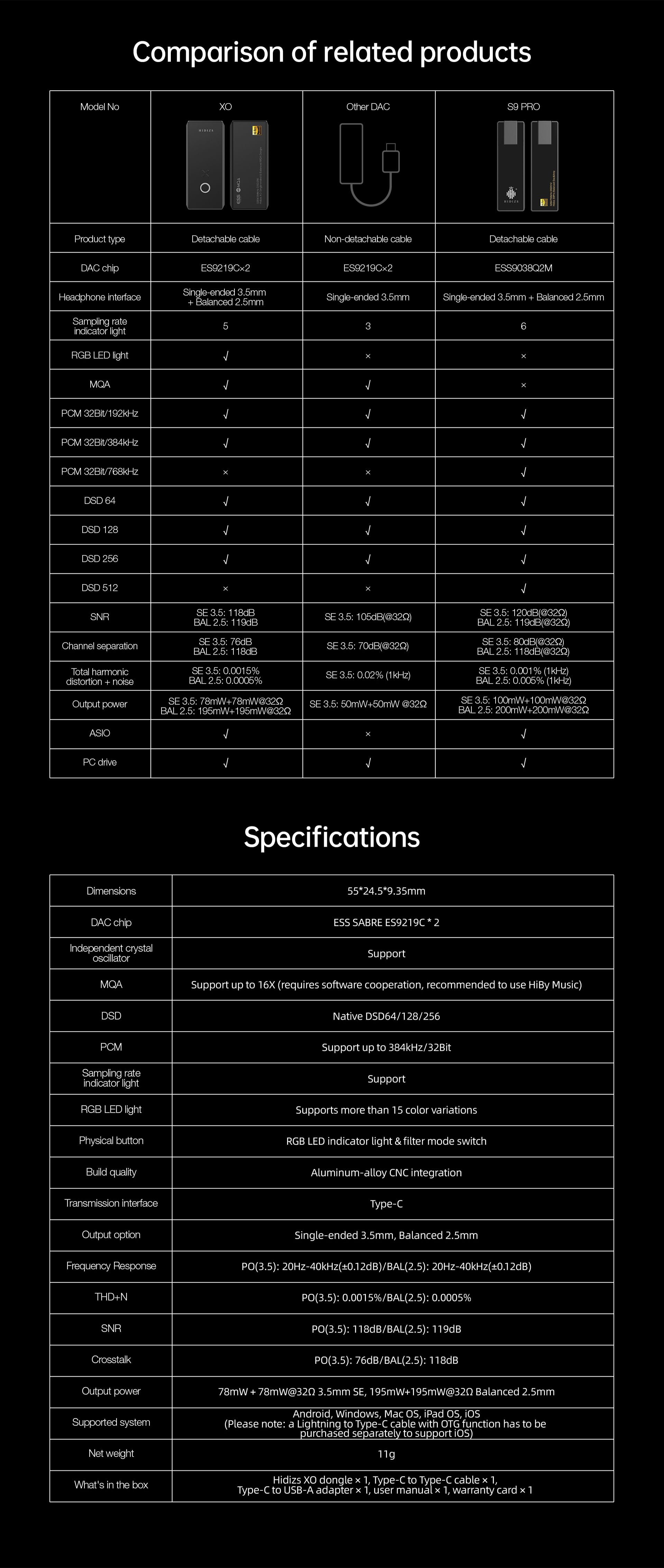 Comparison
Model
S9 PRO PLUS
S9 PRO
Product Type
Split Style
Split Style
DAC Chip
ESS9038Q2M
ESS9038Q2M
Headphone Jack
3.5mm+4.4mm
3.5mm+2.5mm
Physical Button
2
0
Sampling Rate Indicator Light
6
6
RGB LED Light
×
×
MQA
×
×
PCM 32bit/192kHz
√
√
PCM 32bit/384kHz
√
√
PCM 32bit/768kHz
√
√
DSD 64
√
√
DSD 128
√
√
DSD 256
√
√
DSD 512
√
√
ASIO
√
√
PC Drive
√
√
Switching Filter
√
×
SNR
3.5mm PO:123dB(@32Ω)
4.4mm BAL:120dB(@32Ω)
3.5mm PO:120dB(@32Ω)
2.5mm BAL:119dB(@32Ω)
Channel Separation
3.5mm PO:75dB(@32Ω)
4.4mm BAL:115dB(@32Ω)
3.5mm PO:80dB(@32Ω)
2.5mm BAL:118dB(@32Ω)
THD+N
3.5mm:0.0019%@32Ω
4.4mm:0.0008%@32Ω
3.5mm:0.0006%@32Ω
2.5mm:0.0012%@32Ω
Output Power
3.5mm PO:138mW@32Ω
4.4mm BAL:180mW@32Ω
3.5mm PO:100mW@32Ω
2.5mm BAL:200mW@32Ω
Frequency Response
20Hz-40kHz
20Hz-50kHz
Recommended Earphone Resistance Range
8-300Ω
Headphone with mic
Compatible
Compatible
Transmission interface
Type-C
Type-C
Power System
No need to charge. Plug and play
No need to charge. Plug and play
Shell Material
Aluminum alloy
Aluminum alloy
Color
Black, Silver, Blue
Black, Silver
Dimensions
55×25×11mm
59×18×8mm
Net weight
17g
11g
Supported System
Android, Windows, Mac OS, iPad OS, Harmony OS
(Please note: a Lightning to Type-C cable with OTG function has to be purchased separately to support iOS)
Windows, Mac OS, iPad OS, Android, iOS
(Please note: For iOS users, the Lightning OTG cable has to be purchased separately)
What's in the box
Hidizs S9 PRO PLUS x 1
Type-C to Type-C cable x 1
Type-C to USB-A adapter x 1
User manual x 1
Warranty card x 1
Hidizs S9 PRO DAC & AMP x 1
Type-C to Type-C cable x 1
Type-C to USB-A adapter x 1
Rear clip x 1
User manual x 1
Warranty card x 1
Comparison
Model
S9 PRO PLUS
S9 PRO
Product Type
Split Style
Split Style
DAC Chip
ESS9038Q2M
ESS9038Q2M
Headphone Jack
3.5mm+4.4mm
3.5mm+2.5mm
Physical Button
2
0
RGB LED Light
×
×
MQA
×
×
PCM 32bit/192kHz
√
√
PCM 32bit/384kHz
√
√
PCM 32bit/768kHz
√
√
DSD 64
√
√
DSD 128
√
√
DSD 256
√
√
DSD 512
√
√
ASIO
√
√
PC Drive
√
√
Switching Filter
√
×
SNR
3.5mm PO:123dB(@32Ω)
4.4mm BAL:120dB(@32Ω)
3.5mm PO:120dB(@32Ω)
2.5mm BAL:119dB(@32Ω)
Channel Separation
3.5mm PO:75dB(@32Ω)
4.4mm BAL:115dB(@32Ω)
3.5mm PO:80dB(@32Ω)
2.5mm BAL:118dB(@32Ω)
THD+N
3.5mm:0.0019%@32Ω
4.4mm:0.0008%@32Ω
3.5mm:0.0006%@32Ω
2.5mm:0.0012%@32Ω
Output Power
3.5mm PO:138mW@32Ω
4.4mm BAL:180mW@32Ω
3.5mm PO:100mW@32Ω
2.5mm BAL:200mW@32Ω
Frequency Response
20Hz-40kHz
20Hz-50kHz
Headphone with mic
Compatible
Compatible
Transmission interface
Type-C
Type-C
Power System
No need to charge. Plug and play
No need to charge. Plug and play
Shell Material
Aluminum alloy
Aluminum alloy
Color
Black, Silver, Blue
Black, Silver
Dimensions
55×25×11mm
59×18×8mm
Net weight
17g
11g
Supported System
Android, Windows, Mac OS, iPad OS, Harmony OS
(Please note: a Lightning to Type-C cable with OTG function has to be purchased separately to support iOS)
Windows, Mac OS, iPad OS, Android, iOS
(Please note: For iOS users, the Lightning OTG cable has to be purchased separately)
What's in the box
Hidizs S9 PRO PLUS x 1
Type-C to Type-C cable x 1
Type-C to USB-A adapter x 1
User manual x 1
Warranty card x 1
Hidizs S9 PRO DAC & AMP x 1
Type-C to Type-C cable x 1
Type-C to USB-A adapter x 1
Rear clip x 1
User manual x 1
Warranty card x 1
Comparison
Model
S9 PRO PLUS
S9 PRO
Product Type
Split Style
Split Style
DAC Chip
ESS9038Q2M
ESS9038Q2M
Headphone
Jack
3.5mm+4.4mm
3.5mm+2.5mm
Physical
Button
2
0
RGB
LED Light
×
×
MQA
×
×
PCM
32bit/192kHz
√
√
PCM
32bit/384kHz
√
√
PCM
32bit/768kHz
√
√
DSD 64
√
√
DSD 128
√
√
DSD 256
√
√
DSD 512
√
√
ASIO
√
√
PC Drive
√
√
Switching
Filter
√
×
SNR
3.5mm PO:123dB(@32Ω)
4.4mm BAL:120dB(@32Ω)
3.5mm PO:120dB(@32Ω)
2.5mm BAL:119dB(@32Ω)
Channel
Separation
3.5mm PO:75dB(@32Ω)
4.4mm BAL:115dB(@32Ω)
3.5mm PO:80dB(@32Ω)
2.5mm BAL:118dB(@32Ω)
THD+N
3.5mm:0.0019%@32Ω
4.4mm:0.0008%@32Ω
3.5mm:0.0006%@32Ω
2.5mm:0.0012%@32Ω
Output
Power
3.5mm PO:138mW@32Ω
4.4mm BAL:180mW@32Ω
3.5mm PO:100mW@32Ω
2.5mm BAL:200mW@32Ω
Frequency
Response
20Hz-40kHz
20Hz-50kHz
Headphone
with mic
Compatible
Compatible
Transmission
interface
Type-C
Type-C
Power
System
No need to charge. Plug and play
No need to charge. Plug and play
Shell
Material
Aluminum alloy
Aluminum alloy
Color
Black, Silver, Blue
Black, Silver
Dimensions
55×25×11mm
59×18×8mm
Net weight
17g
11g
Supported
System
Android, Windows, Mac OS, iPad OS, Harmony OS
(Please note: a Lightning to Type-C cable with OTG function has to be purchased separately to support iOS)
Windows, Mac OS, iPad OS, Android, iOS
(Please note: For iOS users, the Lightning OTG cable has to be purchased separately)
Packing
List
Hidizs S9 PRO PLUS x 1
Type-C to Type-C cable x 1
Type-C to USB-A adapter x 1
User manual x 1
Warranty card x 1
Hidizs S9 PRO DAC & AMP x 1
Type-C to Type-C cable x 1
Type-C to USB-A adapter x 1
Rear clip x 1
User manual x 1
Warranty card x 1