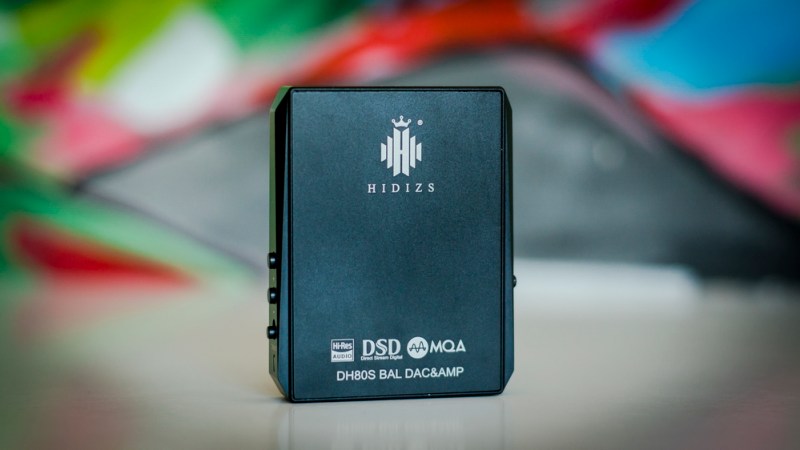 First of all, just to clarify: DH80 and DH80S are similar DAC/amp devices and the only difference is the form factor. DH80S is a standalone universal battery-powered portable DAC/amp suitable for various usage scenarios with lots of different audio sources. 
DH80/DH80S tech specs:
DAC: ESS ES9281C PRO
OpAmp: RT6863C X2
Max Sampling Frequency: 32Bit/384Khz
DSD:Up to 128
MQA: 8X unfold
Independent Volume Control
Gain: High/Medium/Low
Sampling Rate Indicator (Red:44.1k-48k, Blue:88.2k-384k, Pink:MQA)
Inputs: USB Type-C
Outputs: 3.5mm SE, 4.4mm balanced
Battery:1300mAh 3.7V Li-Polymer Battery
Charging Time: ~2.5 hours
Battery Life: balanced: ~6 hours, single ended: ~8 hours.
OS: Windows 10, Mac OS, iOS, Android (for iOS users, the Lightning OTG cable has to be purchased separately)
Dimensions: 70×50×12mm
Net Weight:76g
Packaging and design:
Hidizs DH80S comes in small but stiff rectangular box with glossy product picture at front and technical specs printed on the back side. This box consists of two compartments inside, one has soft insert that holds DH80S at place and below that you'd find the rest of the accessories and leaflets. Full set is as following:
DH80S
type-C to USB-A converter
type-C cable
type-C to type-C OTG cable
coin type separator for sandwich setup
warranty card
User manual
Charging from empty to full takes around 2.5 hours and battery lasts for about 8 hours of use through SE audio output at ~70% volume. DH80S never got hot during charging or regular operations.
This DAC/amp can be used either with Android or iOS smartphones or with desktop OS like Windows 10 and Mac. All of those would natively support DH80S, with no need for extra drivers. Although, for the best audio quality under Windows environment it is better to wait until Hidizs would release a dedicated ASIO driver which is not yet available. With Android OS – we have used HiBy Music app to feed bit-perfect stream over USB. No issues. For those who have Tidal or Qobuz subscriptions – DH80 series support an impressive 8X MQA unfold over USB.
To view the full original article, click here.